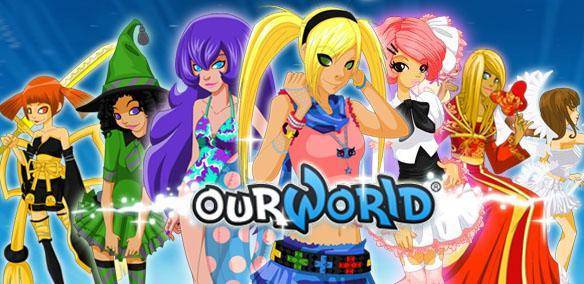 Play Games. Meet People. Look Good. Get ready to enter
ourWorld
– a fun and family-friendly virtual world game for ages 11-and-up where you can dress-up your Avatar (a unique virtual character) in over 32,000 different items such as hair styles, clothes, accessories, shoes, and more! Play hundreds of mini-games, interact with others, update your style, and generally – just hang out! There are lots of virtual settings to explore, such as beaches, shopping centers, coffee shops. You also have your own apartment and amazing pets! Make new virtual friends in this unique social activity where you can literally choose any aspect of your character! There are various tasks to perform that unlock cool new aspects and mini-adventures.
How to Play: The controls are mostly point-and-click using your computer mouse or touchpad. First, you have to create your own Avatar. There is a character called Zoe who gives you a tutorial on how to do this. The avatar can be a boy or a girl, tall or short – basically whatever you want. You can change your appearance by clicking on the 'User' drop down menu beside your virtual name (this will be something like 'Guest123') at the top of the game screen. In the dressing-up area, you can change your clothes, hairstyle and facial appearance.
To play any of the mini-games, click on the 'Games' menu along the top bar. There are hundreds of different types of games – from action, arcade and platform games – to matching, flying and driving games. The more games you play, the more coins and rewards you earn. This results in you 'upgrading' a level – which unlocks more tasks and items of clothing. To visit different areas, click the 'Places' icon in the top right corner and choose the next area you want to visit. Tip: For some extra fun, click any of the dance icons along the bottom of the game screen to make your Avatar perform some cool and amusing dance moves.